Applied Linguistics and TESOL
Applied Linguistics and TESOL
MA, 1-2 years, full- or part-time
This is for you if... you wish to further develop your academic and professional expertise in the field of English Language Teaching practice.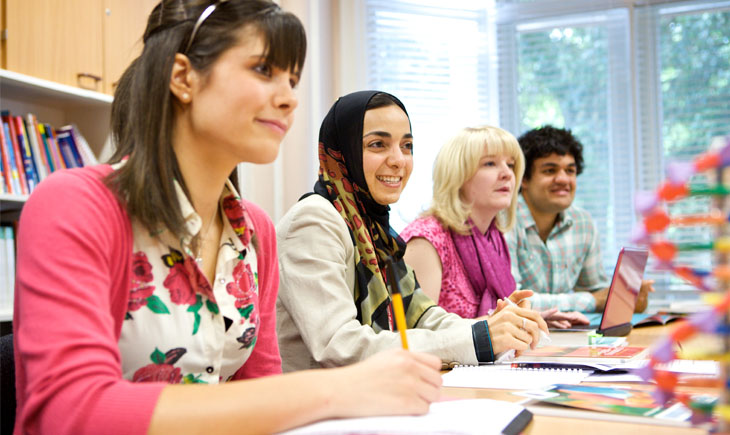 Course Description
The MA in Applied Linguistics and TESOL (Teaching English to Speakers of Other Languages) is aimed at graduate teachers and other English Language Teaching professionals with at least two years' English language teaching experience who wish to further their academic and professional development.
This degree will provide you with:
A critical understanding of key issues and debates in many areas of applied linguistics and of how these relate to English Language Teaching.
A body of knowledge that will enhance your ability to undertake language teaching at a range of levels in different cultural and institutional contexts.
The ability to reflect, analyse and critically evaluate language teaching and learning concepts and theories, and to understand and examine the assumptions underlying different classroom practices.
The skills to undertake effective practitioner research in your specific area of interest.
We are one of the longest established providers of postgraduate studies in Applied Linguistics and TESOL in the UK. On this course you will join teachers from all over the world. You will also benefit from our active involvement in research in different areas of Applied Linguistics and TESOL.
Why Leicester?
Our courses aim to develop leaders in education and so have been designed with your career prospects in mind.
Education at Leicester attracts students and academics from all over the world, allowing you to become part of an inclusive, diverse and professional international network.
Our range of modules allow you to study a course tailored to your interests.
You will be taught by academics with considerable teaching, management and research experience who are at the forefront of research in education.
Course Structure
Core modules
Core modules
Modules shown represent choices available to current students. The range of modules available and the content of any individual module may change in future years.
Option modules
Option modules
Choose
two option modules
from:
Plus one option module from:
English for Specific Purposes/EAP
Modules shown represent choices available to current students. The range of modules available and the content of any individual module may change in future years.
Dissertation
Dissertation
In your third term you will undertake a dissertation in a subject of your choice. You will be supervised by a member of staff with expertise in your chosen area who will guide and support you.
Modules shown represent choices available to current students. The range of modules available and the content of any individual module may change in future years.
Teaching and Assessment
Teaching consists of lectures, seminars and workshops, with tutorial support. You will be assessed through written assignments and some tests, presentations and project work, depending on the particular module. You will be encouraged to develop your transferable skills, including IT and communication skills.
Entry Requirements
At least a relevant second class honours degree - or its equivalent from a non-UK university (GPA 3.0 or above)
You should normally be a teacher or working in the English Language Teaching field with two years' teaching experience.
English Language Requirements
IELTS 6.5 or equivalent, with at least 6.0 in each component score. If your first language is not English, you may need to provide evidence of your English language ability. If you do not yet meet our requirements, our English Language Teaching Unit (ELTU) offers a range of courses to help you to improve your English to the necessary standard.
International Qualifications
Find your country in this list to check equivalent qualifications, scholarships and additional requirements.
Countries list
Career Opportunities
The field of English language teaching is increasingly competitive and many organisations see a Masters level qualification as an essential requirement. Many of our graduates go on to gain promotion in their existing jobs or to move on to more senior or challenging posts. This course is a powerful vehicle for both personal and professional development.
Education CPD+ offers a range of professional development opportunities for practicing teachers, and we offer Masters courses with a focus on Learning and Teaching, Educational Leadership, TESOL and Applied Linguistics.
Our PhD opportunities are very popular with those wishing to pursue a particular research interest at doctoral level.
We are committed to training and developing outstanding teachers. We are proud to be able to support the career progression of so many teachers through the courses we offer, many of whom started their journey with us as PGCE students.
Careers
Our Career Development Service is here to support you, with advice on interviews, CVs, work experience, volunteering and more. From Freshers' Week to Graduation and beyond, they are here to help you reach your professional goals.
| Course | Qualification | Duration | Start Dates | Availability |
| --- | --- | --- | --- | --- |
| Applied Linguistics and TESOL | MA | 1 year full-time | September each year | Apply Now |
| Applied Linguistics and TESOL | MA | 2 years part-time | September each year | Apply Now |
Course
Applied Linguistics and TESOL
Qualification
MA
Duration
1 year full-time
Start Dates
September each year
Availability
Course
Applied Linguistics and TESOL
Qualification
MA
Duration
2 years part-time
Start Dates
September each year
Availability