Action Research
Action Research
PGCert, 9 months, by distance learning
This is for you if... you are looking for a flexible way to study and want to gain an insight into understanding and developing a work-based project, centred on an Action Research approach.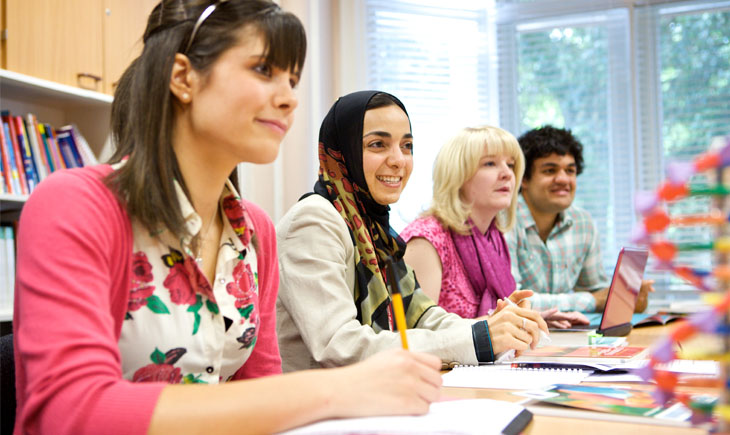 Course Description
Action Research offers an approach to changing practice as part of a cycle of change. In addition to enacting the Action Research approach you will draw on published work to inform your understanding of the problem and possible solutions.
During the course you will:
Consider the basis for change in educational settings.
Develop an understanding of the wider research context of action research.
Clarify your professional challenge and developing research questions.
Identify actions that you or your colleagues can make to address the challenge.
Learn how to collect evidence, which will help you evaluate the actions.
Learn how to disseminate your findings and review next steps.
Studying by supported distance learning allows you to choose when and where you study, meaning you do not have to take a career break.
We pride ourselves on the level of support we provide our distance learning students. Our award-winning library has world-class facilities for distance learning students. You will have full access to our other support services and will be assigned a personal tutor. Our virtual learning environment, Blackboard, offers a wide range of study support material, and you will have the opportunity to join an interactive web-based community of fellow students around the world.
If you have any questions about this course, join us for a live online chat with academic tutors and admissions staff.
Key Facts
Start date

October each year

Department

Education

Contact

Social Science Distance Learning Team
+44 (0)116 252 3755
css-dl@le.ac.uk

Join us for a live online chat.
Why Leicester?
The University of Leicester has over 25 years' experience of offering high quality distance learning courses.
Education at Leicester has an excellent international reputation for the development and teaching of intellectually stimulating education courses.
Our courses aim to develop leaders in education and so have been designed with your career prospects in mind.
You will be taught by academics who are at the forefront of research in education and who feed the latest developments into their teaching.
Course Structure
Part 1
Part 1
Developing Foundations for Action Research
The first part of the course focuses on developing a critical understanding of Action Research as an approach to educational research. Firstly, the nature and variety of research traditions and the need for ethical activity are considered. The spectrum of approaches to Action Research is then discussed before setting the foundations for creating an Action Research project, initially by developing an understanding of the importance of context and research questions and reconnaissance work.
Modules shown represent choices available to current students. The range of modules available and the content of any individual module may change in future years.
Part 2
Part 2
Action Research Project
The second part of the course focuses on completing an Action Research project, based on ideas developed in Part 1. It also introduces consideration of different research methods and data analysis to support the development of a coherent research report.
Modules shown represent choices available to current students. The range of modules available and the content of any individual module may change in future years.
Additional Information
Key Dates
Start date: 16 October 2017
Application deadline for October 2017: 9 October 2017
Teaching and Assessment
Distance learning, which is primarily delivered through online learning, allows you to study in your own time and space so that you can combine achieving a qualification with work or family commitments. Studying by distance learning has the benefit of allowing you to develop your career without having to leave employment. It also means you can apply new knowledge and insights into your working life whilst you are still studying.
The PG Certificate will be assessed by a portfolio and commentary, online poster, oral presentation and a research report.
Entry Requirements
2:2 degree, or equivalent (GPA 3 or above for applicants from the USA)
Or an acceptable professional qualification
English Language Requirements
IELTS 6.5 or equivalent. If your first language is not English, you may need to provide evidence of your English language ability.
International Qualifications
Find your country in this list to check equivalent qualifications, scholarships and additional requirements.
Countries list
Career Opportunities
Education CPD+ offers a range of professional development opportunities for practicing teachers, and we offer Masters courses with a focus on Learning and Teaching, Educational Leadership, TESOL and Applied Linguistics.
Our PhD opportunities are very popular with those wishing to pursue a particular research interest at doctoral level.
We are committed to training and developing outstanding teachers. We are proud to be able to support the career progression of so many teachers through the courses we offer, many of whom started their journey with us as PGCE students.
Careers
Our Career Development Service is here to support you – by email, phone or skype – with advice on interviews, CVs, work experience and more. From registration to Graduation and beyond, they are here to help you reach your professional goals.
| Course | Qualification | Duration | Start Dates | Availability |
| --- | --- | --- | --- | --- |
| Action Research | PGCert | 9 months by distance learning | October each year | Apply Now |
Course
Action Research
Qualification
PGCert
Duration
9 months by distance learning
Start Dates
October each year
Availability