Accommodation Open Day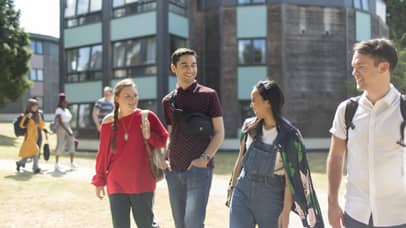 Your chance to explore our accommodation in detail
The Accommodation Open Day will take place on Saturday 14 August 2021, 10.00am - 3.00pm at The Village.
The most popular choice with our first year students, The Village is a self-contained accommodation site in a leafy suburb just a short bus/bike ride from campus. It's an incredible mixture of modern halls of residence and vintage houses with real character, all surrounded by lawns and trees – including the University's own Botanic Garden.
Our other site is The City – purpose-built, state-of-the-art student accommodation right next to campus, within easy walking distance of the city centre.
On the day
Our Student Ambassadors will be on hand to direct you as you arrive at The Village, and our Accommodation team will be around to answer all your questions. You can also meet our Student Support Services, Sport and Active Life teams, sports clubs and societies, and our Students' Union Officers.
There will be free tea and coffee all day and also a lunchtime BBQ (first come, first served!).
Speak with our Accommodation team during your visit if you would like to visit The City accommodation.
More than a room
Accommodation is not just a roof over your head, it's a community. There are rooms for studying together, for playing music, for watching TV or playing games, or just chilling with friends.
Both our accommodation sites have a great social calendar with organised events throughout term (and during the vacations for students who choose to stay over). We'll be showcasing some of these on the Accommodation Open Day.
Getting here
The Village is just a short taxi ride from Leicester train station. Or, if you are driving directly, use postcode LE2 2ND. There is free parking in the Lasdun Car Park on Stoughton Drive South, Oadby.
Book Accommodation Open Day