Dr Alastair J Moss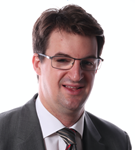 PhD Edin MA Cantab MBBS Lond MRCP (UK)
British Heart Foundation Academic Clinical Lecturer
Qualifications
PhD University of Edinburgh, 2020
MRCP (UK)Royal College of Physicians London, 2011
MAUniversity of Cambridge, 2009
MBBSKing's College London, 2008
Profile
Dr Alastair Moss is a British Heart Foundation Academic Clinical Lecturer at the NIHR Cardiovascular Biomedical Research Centre, University of Leicester. He is currently funded by the British Heart Foundation Accelerator Award which aims to nurture world-class talent in precision medicine at the University of Leicester. Dr Moss graduated from Christ's College, Cambridge and King's College London School of Medicine before commencing clinical training in cardiology in the Wessex Deanery. He has undertaken subspecialty training in advanced cardiovascular imaging at tertiary centres in Edinburgh, Southampton and Oxford. Prior to joining the cardiovascular imaging research group in Leicester, he obtained a PhD at the University of Edinburgh under the supervision of Professor David Newby and Dr Marc Dweck. He has received research funding from the Wellcome Trust, Chief Scientific Office of Scotland and the British Heart Foundation. He holds positions on national (British Society of Cardiovascular Imaging, British Junior Cardiologists' Association) and international (Fellows and Resident Leaders of the Society of Cardiovascular Computed Tomography) cardiac imaging committees and he is an international advisory board member of the journal Heart.
Research
Dr Alastair Moss has major research interests in using molecular imaging to better understand the pathophysiology of coronary artery disease. Dr Moss has performed research using cardiac computed tomography to detect vulnerable atherosclerotic plaques [SCOT-HEART trial, NCT01149590] and is an investigator of the Wellcome Trust funded PRE18FFIR study [NCT02607748], the first multicentre study to establish whether coronary 18F-fluoride positron emission tomography can identify patients at risk of recurrent myocardial infarction. He has investigated the clinical application of coronary positron emission tomography in the DIAMOND trial [NCT02110303], a Phase 3 randomised placebo-controlled trial using 18F-fluoride activity to guide the intensification of antiplatelet therapy.
Publications
Williams MC, Kwiecinski J, Doris M, McElhinney P, D'Souza M, Cadet S, Adamson PD, Moss AJ, Alam S, Hunter A, Shah ASV, Pawade T, Wang C, Weir-McCall J, Bonnici-Mallia M, Murrills C, Roditi G, van Beek E, Shaw LJ, Nicol ED, Berman D, Slomka PJ, Newby DE, Dweck MR, Dey D. Circulation. 2020. Doi: 10.1161/CIRCULATIONAHA.119.04720. Low-density non-calcified plaque on coronary computed tomography angiography predicts myocardial infarction: results from the multicenter SCOT-HEART trial (Scottish Computed Tomography of the HEART).
Williams MC, Moss AJ, Dweck M, Adamson PD, Alam S, Hunter A, Shah ASV, Pawade T, Weir-McCall JR, Roditi G, van Beek EJR, Newby DE, Nicol E. J Am Coll Cardiol. 2019;73:291-301. Coronary artery plaque characteristics associated with adverse outcomes in SCOT-HEART.
Kwiecinski J, Tzolos E, Adamson PD, Cadet S, Moss AJ, Joshi N, Williams MC, van Beek EJ, Dey D, Berman DS, Newby DE, Slomka PJ, Dweck MR. J Am Coll Cardiol [in press]. 18F-Sodium fluoride coronary uptake predicts outcome in patients with coronary artery disease.
Moss AJ, Dweck MR, Doris MK, Andrews JPM, Bing R, Forsythe RO, Cartlidge T, Pawade TA, Daghem M, Raftis JB, Williams MC, van Beek EJR, Forsyth L, Lewis S, Lee R, Shah ASV, Mills NL, Newby DE, Adamson PD. J Am Coll Cardiol Img. 2019. Doi: 10.1016/j.cmg.2019.05.023. Ticagrelor to reduce myocardial injury in patients with high-risk coronary artery plaque.
Moss AJ, Doris MK, Andrews JPM, van Beek EJR, Forsyth L, Sellers S, Leipsic J, Dweck MR, Parker RA, Newby DE, Adamson PD. Circ Cardiovasc Imaging. 2019;12:e008574. Molecular imaging of coronary atherosclerosis using 18F-flouride.