West Africa Alumni Chapter Event
West Africa Alumni Chapter Event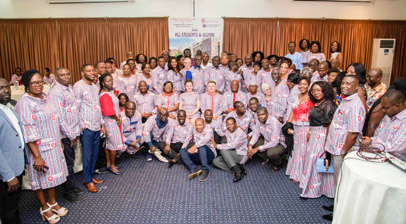 Nearly 200 alumni came together in Accra, Ghana, on 28 June for a West Africa Alumni Chapter reunion and the launch of a new University of Leicester alumni cloth, which was designed by and for West African alumni.
The event took place at the Fiesta Royale Hotel in Accra, where we were delighted to be joined by alumni from all over Ghana, as well as by a group of 10 alumni who flew in from Nigeria especially for the event.
Guests were treated to traditional Ghanaian music and food, as well as speeches from government officials and distinguished fellow alumni, including alumni chapter leaders and the Hon. Fritz Baffour (New Media, Governance and Democracy MA, 2013), the former Information Minister for Ghana.
During the evening guests also heard from Bill Friar, the University's Director of Philanthropy, Alumni and Community Engagement, and Professor Peter Lunt, Acting Dean of the School of Business.
The night was a vibrant affair, with most alumni dressed in unique bespoke outfits they had designed using the new University of Leicester alumni cloth. A selection of these were showcased during the evening as part of a tongue-in-cheek fashion show.
Alumni networked with friends old and new throughout the evening, and also welcomed current Distance Learning students studying for Leicester degrees.
The West Africa Alumni Chapter is active and growing. So if you are based in West Africa and would like to get involved, please contact the Alumni Engagement Team alumni.relations@le.ac.uk.