London Chapter Drinks Reception
London Chapter Drinks Reception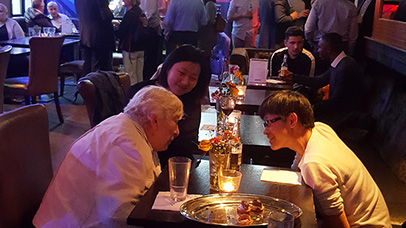 A warm and sunny Tuesday evening in early September saw the launch of the London Alumni Chapter at Ruby Blue Bar in Leicester Square, London. The Chapter launch was a huge success with over 80 guests attending.
The event was led by the London Chapter Steering Group and included a drinks reception, some canapés and a chance for guests to collect their much-coveted alumni pin badges!
During the evening, Bill Friar, Director of Philanthropy, Alumni and Community Engagement, was delighted to reveal that the Alumni Awards Dinner 2020 will be taking place at Drapers' Hall on London's Throgmorton Street on Thursday 5th March.
If you are interested in volunteering with the London Alumni Chapter Steering Group, or if you have any ideas for future London Alumni Chapter events that you would like to see, the Alumni Engagement Team would be delighted to hear from you.
After the success of the launch event, plans are already underway to organise a second London Chapter event in early-December!