Leicester's best celebrated at inaugural Alumni Awards Dinner
Leicester's best celebrated at inaugural Alumni Awards Dinner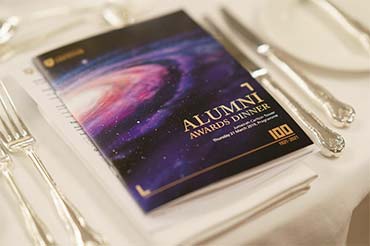 On Thursday 21 March 2019, nearly 200 Leicester alums put on their best formal attire and met us at the Jumeirah Carlton Tower in beautiful Belgravia for the first ever Alumni Awards Dinner, and what a magical night it was!
Award winners 2019
Future Leader Award: Dr Angela Stienne
Angela's 'Identities' and 'Museum Takeover' projects at the New Walk Museum invite refugee and asylum seekers to re-label objects, giving underrepresented community members a voice. Angela runs the Mummy Stories website, the first project to invite the public to discuss human remains in museums.
Dr Mark Sims Memorial Award for Public Service: James Woodall
In January 2017, James's youngest son George was diagnosed with a rare form of cancer. While supporting him through his treatment, James and his wife Vicki made a pledge to raise £1 million for The Royal Marsden Cancer Charity in an effort to beat childhood cancer. George has since been declared disease free and to date the campaign has raised over £950,000.
Alumna/Alumnus of the Year Award: Rekesh Chauhan
Rekesh, a classical pianist and composer, received the NIAA Young Musician of the Year Award 2018, and has collaborated with MOBO and Mercury Prize winners and a Nobel Peace Prize performer. His latest album reached No.2 on the iTunes World Music Chart. Rekesh was invited by Prime Minister Theresa May to Downing Street as one of the top "35 under 35" India-UK Young Leaders.
Rhoda Bennett Philanthropy Award: Claire Gillingwater
Claire worked as a journalist for 14 years, inspired by her experiences as a student working on the Leicester Sound and The Ripple newspaper. She began her career on the Sheffield Star and Leicester Mercury before moving into broadcast journalism. Claire eventually returned to Leicester as Deputy Editor of the Leicester Mercury. In 2005 she established her communications consultancy business, Dunnell Gillingwater and Associates Ltd.
Lifetime Achievement Award: Andy Byford
Andy has been at the helm of some of the biggest and most complex transport systems in the world, with 2019 marking his 30th year in public transport. Since 2018 he has been the President of the New York City Transit Authority, responsible for ensuring 2.5 billion safe and efficient journeys in New York each year. Before this, Andy was the Chief Executive of the Toronto Transit Commission (TTC) for six years, during which time he was credited with bringing several major changes to the system which culminated in the TTC being named as the American Public Transportation Association Outstanding Transport System of the Year for 2017. He was formerly Chief Operating Officer for RailCorp in New South Wales, Australia, and worked in a number of managerial positions with Transport for London.
On the night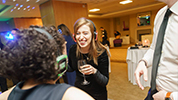 The evening began with a drinks reception, where alumni mingled and chatted whilst viewing a display on the history of the University by the Archives team. Part of the display included a digital version of The Golden Book, a handwritten list of donors who helped found the Leicester, Leicestershire and Rutland College, which later became the University of Leicester.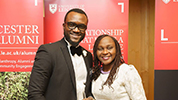 As part of the Special Collections exhibition, alumni were invited to look at photos from throughout the University's history and identify those in the pictures. Keep your eyes peeled over the coming weeks for your chance to get involved!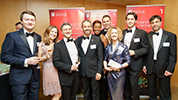 Guests then moved into the ballroom, where BBC Presenter and MC for the evening Lukwesa Burak kicked off the celebrations with a welcome speech. After further welcoming remarks from Steph Osborn, Chair of the Standing Committee of the Alumni Association, dinner was served.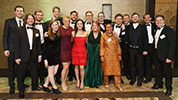 When the awards ceremony came to its conclusion, it was time to dance the night away at the silent disco! Music requests have been compiled into playlists on Spotify, which you can listen to here: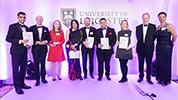 Guests were also able to enjoy less formal photos, provided by Momentous Photo Booth. Thank you to everyone who kindly gave a gift to support our core priorities of student support, infrastructure and estates, research excellence and greatest need. If you were unable to give a gift on the night but would like to do so now, you can make a gift online.
And finally, you can check out all of the photographs from the evening on the University of Leicester Alumni Facebook page.