In Conversation with Octavia Goredema MBE
In Conversation with Octavia Goredema MBE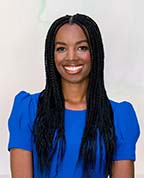 Join alumna Octavia Goredema MBE (BA Politics and Economic and Social History, 2000), on Thursday 7 April 6.00pm - 7.00pm (UK time) via Zoom, as she shares her successful career journey during this in conversation and fireside themed online event.
Octavia Goredema is a career coach and the founder of Twenty Ten Agency, where she has coached leaders at renowned companies including Google, American Airlines, Tinder, General Motors, Nike, and Dow Jones. She is committed to helping underrepresented professionals advance their careers, whether they are looking for a new job, dealing with job loss, pivoting to a new career, or returning to work after an extended absence. She shares her insights in her new book, 'PREP, PUSH, PIVOT: Essential Career Strategies for Underrepresented Women'.
An acclaimed career expert, Octavia's insights have been featured in leading media outlets, including NBC News, Yahoo, Los Angeles Times, The Guardian, Grazia, and Black Enterprise. In addition, Octavia co-hosted HBR Now, Harvard Business Review's weekly show about leadership.
Throughout this event, host Jashan Johal (Computing with Management (Industry) BSc, 2020), member of the Alumni Association Committee, will delve deep into conversation with Octavia, gaining insight into how the University of Leicester has helped her shape her career as a successful author and career coach. Jashan and Octavia will then engage in an insightful conversation in which a series of questions will be asked before opening the floor for alumni to partake in a Q&A.
A truly captivating speaker, this is one event you won't want to miss, so book your place now!