Centenary Alumni Celebration - 100 years of Achievement
After selling out within a matter of weeks, we were incredibly thrilled to celebrate our Centenary Alumni Celebration - 100 years of achievement on Thursday 12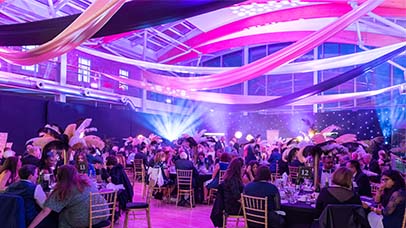 May 2022, in the heart of campus at the Percy Gee Student's Union Building, which was transformed for the evening! Proudly sponsored by Mattioli Woods, the event saw guests transported into an immersive 1920's experience with a 5-piece swing band and stylish 1920's décor throughout. The evening provided an opportunity for 150 alumni and guests to come together and celebrate 100 years of University and alumni achievements whilst networking and reminiscing in a truly nostalgic setting.

The evening began with a tasteful drinks' reception in the revamped Campus Kitchen, alongside the sounds of a live soloist singer, and provided alumni with the opportunity to chat informally. Alumnus and BBC Radio 5 Live Presenter Chris Warburton (Politics BA, 1998), our Master of Ceremonies for the evening, welcomed guests and ensured the event ran seamlessly, whilst Alumni Association Committee Chair, Martin Cullen, and President and Vice-Chancellor, Professor Nishan Canagarajah, both provided welcoming remarks to the alumni community.

Guests were then wined and dined with a delicious three-course meal in the Students' Union Square before our guest speaker, internationally celebrated visual artist and Patron of the Attenborough Arts Centre, Grayson Perry CBE, captivated the audience during an entertaining speech where he discussed his life and connection with education. The truly fantastic successes of our alumni were then celebrated through the Alumni Awards with a special Citizens of the Century Award which was presented to the Attenborough Family. Michael Attenborough CBE shared what the award means to the whole family and gave a touching acceptance speech. You can find out more about our 2022 Alumni Award winners here.

The event finished on a high with after-dinner dancing and even more photos! Given that it has been over two years since we were able to host our last Alumni Dinner, it was great to see guests' let their hair down and dance the night away!

The following day, alumni took advantage of the opportunity to join tours across campus, including the newly completed Freemen's Common and Space Park Leicester and Brookfield. It was fantastic to meet alumni and chat over tea, coffee, and cake!

After a truly memorable couple of days, we would like to take the opportunity to thank everyone who attended and supported the event.

To relive the evening, you can view all the photographs on the University of Leicester Alumni Facebook page when they become available.