Provost and Deputy Vice-Chancellor
Provost and Deputy Vice-Chancellor
Professor Edmund Burke FREng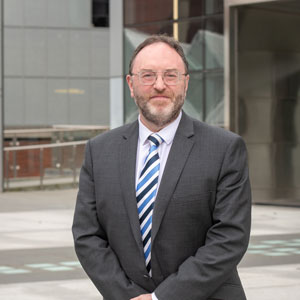 Edmund Burke joined the University of Leicester as Deputy Vice-Chancellor in July 2018. He is a member of the Executive Board, Senior Leadership Team (SLT) and the Academic Leadership Team.
He was Vice-Principal for the Faculty of Science and Engineering at Queen Mary University of London from 2015 to 2018. He joined Queen Mary from the University of Stirling where he held the positions of Senior Deputy Principal/Deputy Vice-Chancellor between 2014 and 2015 and Deputy Principal for Research from 2011 to 2014. Before joining Stirling in 2011, he held several academic positions at the University of Nottingham over a 21 year period, where he served ultimately as Dean of the Faculty of Science. He successfully studied for a PhD in Computer Science and Mathematics at the University of Leeds between 1987 and 1990.
A distinguished computer scientist, with a strong research record, he has supervised 34 PhD students to completion. He is Editor-in-chief of the Journal of Scheduling and Area Editor of the Journal of Heuristics. He has edited/authored 14 books and has published over 280 refereed papers. Edmund's research has a strong practical component and he has collaborated closely with a number of companies including BT, KLM/Air France, NATS and Ortec. He has played a leading role in establishing three university spin-out companies.
An active researcher, Edmund has been awarded 58 externally-funded grants worth over £18 million from a variety of funding bodies including EPSRC (Engineering and Physical Sciences Research Council), ESRC (Economic and Social Research Council), BBSRC (Biotechnology and Biological Sciences Research Council), the European Union, the Research Council of Norway and industrial organisations.
In the 2022 Research.com Ranking of the Top 1,000 Scientists in the field of Computer Science, Edmund was ranked no.352 in the world and no.20 in the UK.
Professor Burke served as Acting Vice-Chancellor from April to November 2019.
External and professional activities
Member of the EPSRC Equality, Diversity and Inclusion Strategic Advisory Group (January 2019 – present)
Member of the EPSRC Strategic Advisory Network (SAN) (January 2019 – present
Member of the EPSRC Mathematical Sciences Advisory Group (February 2020 - present)
President of the Operational Research Society (January 2020 - present)
Honorary appointments
Honorary Professor, Queen Mary University of London (2018 – present)
Honorary Professor, University of Stirling (2015 – present)
Honorary Professor, Lancaster University (2013 – present)
Fellowships and awards
How to get in touch
Personal Assistant to the Deputy Vice-Chancellor
Nicole Hamilton
+44 (0)116 252 5831
nicole.hamilton@le.ac.uk