Chief Operating Officer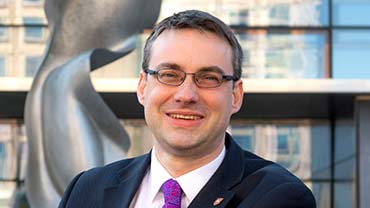 Martyn Riddleston BA FCA
Martyn was appointed as Chief Operating Officer in February 2020 having previously been the Chief Financial Officer and Director of Finance.
He is a University of Leicester graduate from the mid-1990s and is a chartered accountant. He began his career with KPMG working with audit clients and on corporate transactions in the UK and Europe. He joined the University in 2002.
As Chief Operating Officer Martyn is responsible for various professional service teams including Finance, HR, Estates, IT and many aspects of the University's commercial trading activities. He is a member of the Executive Board. Away from the University Martyn is a trustee of a local charity and is a member of a national pensions group.
How to get in touch
Personal Assistant to the Chief Operating Officer
Clare Fox
cf278@le.ac.uk