Janet Arthur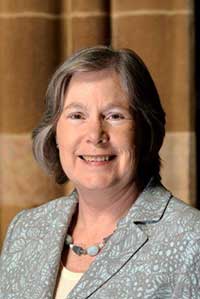 Janet Arthur read History at Durham 1974-77, then worked in the classical music division of the Decca Record Company before gaining a Diploma in Arts Administration at City 1980-81. On moving to Leicestershire in 1982 she worked freelance for the Arts Council and East Midlands Arts, before teaching Arts Administration and managing student placements for the Performing Arts Degree at Leicester Polytechnic (1982-84).
Since 1984 she has run a small property company.
In a voluntary capacity, she has helped a range of local charities with administration, fundraising and implementation of strategy - her parish church, Leicester International Music Festival, the launch of Hope Against Cancer, Leicestershire Historic Churches Trust (Chair since 2006), Leicester Cathedral Chapter, and Leicester Cathedral Charitable Trust of which she is a trustee. She helped raise £2.5m for the Cathedral's Richard III Appeal (2013-15) and since 2016 has helped raise a further £12.7m for 'Leicester Cathedral Revealed' – a major project of restoration and renewal on which work started in August 2021.
Janet Arthur was appointed MBE in the New Year Honours 2021.