Wendy Hickling OBE, JP, DL (1936–2017)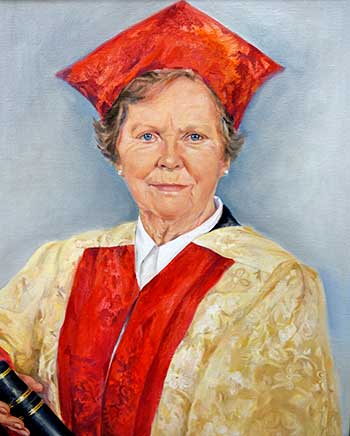 "In our rooms, with outstretched arms you could touch each wall. You were allowed five items on your dressing table and nothing on the radiator. If you contravened this rule your surplus items were confiscated and you had to pay to get them back." - Wendy Hickling, 2008
In 1958, students who had spent three years studying at University College Leicester received their degrees in the first graduation ceremony of the newly established Leicester University. The impersonal vagary of alphabetical order dictated that Wendy Baldwin was first across the stage, becoming the University's first ever graduate.
Under her married name of Hickling, Wendy was an integral part of the University throughout her life. She served on the University's two main governing bodies, Council and Court, for more than 20 years and also for 16 years served on the Convocation (predecessor to the Alumni Association).
Her public service extended far beyond the University, including serving as Chair of three NHS Trusts, as a Justice of the Peace and as a Deputy Lieutenant of Leicestershire. Initially working as a teacher, Wendy ran a nursery school in Leicester for 25 years and also worked for Vista, the local charity supporting blind people.
In 1998, Wendy Hickling received an Honorary Doctorate of Laws and in 2008, on the fiftieth anniversary of her original graduation ceremony, she was named a Distinguished Honorary Fellow – the highest honour which the University can bestow. She passed away in May 2017, after a lifetime of devoted service to University and city.
Painted by Rebecca Foster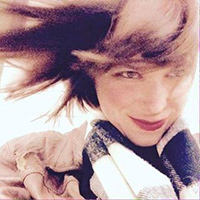 Rebecca Foster is a London based artist whose work is focused on contemporary portraiture. She studied at Central St Martins and was awarded an MA in Drawing from Wimbledon School of Art 2006. She has exhibited internationally and her work is widely collected. Her recent solo show of portraits exploring modern masculinity was an overwhelming success and she is currently showing work in a group exhibition focused on female creativity.
"It was a privilege to be selected by Leicester University as one of the artists commissioned for International Women's Day. The commission was of particular interest as it seeks to rebalance the representation of women in public spaces. As a female artist the opportunity to paint a subject chosen for her excellence and intelligence was an honour and I am delighted with the finished painting." - Rebecca Foster