Esuantsiwa Jane Goldsmith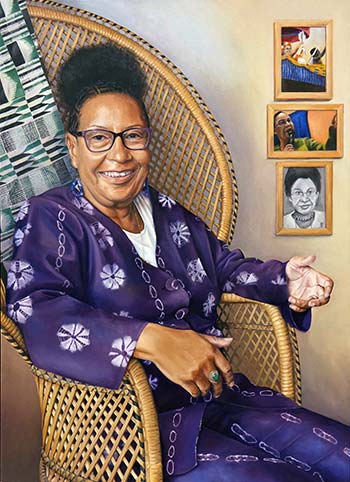 "When I was President I had to go to Senate meetings, me with 90-odd white guys, so I always turned up wearing banana yellow and big hair to scare the mortar boards off them." - Esuantsiwa Jane Goldsmith, 2015.
When elected President of Leicester University Students' Union in 1975, Jane scored a double first, being both the first female student* and the first black woman student to hold the office. 'Students pick woman!' was the headline in the Leicester Mercury that week. Jane served as President of the SU's Women's Liberation Group and Anti-Apartheid Group, as well as Vice-Chair of the Union, before being persuaded to stand for a Sabbatical position.
Among many other positions, Jane has been Commissioner for the Women's National Commission, Chair of the Fawcett Society, Chair and Co-Founder of the Gender and Development Network, Vice-Chair of ActionAid UK, a Trustee of the Equality and Diversity Forum and a member of the UK Government delegation to the UN Fourth World Conference on Women, held in Beijing in 1995. She was enstooled as Queen Mother of Development of her village in Cape Coast, Ghana, in 2009.
Jane now uses her Ghanaian name, Esuantsiwa - or Esua for short.
* Due acknowledgement to Nellie Bonsor (1923-26) and C Edith Baseley (1936-37) who held the equivalent position in the days of University College, Leicester.
Painted by Megan McMullan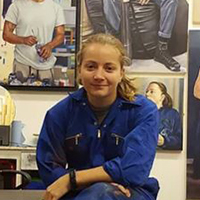 A portrait painter born in Leicester in 1989, Megan McMullan studied at De Montfort University where she achieved a first class honours in her Fine Art degree and also gaining a Masters the year after. After leaving university Megan joined Knighton Lane Artists so that she could continue with her artistic practice. Megan paints in a realist style creating the illusion that the sitter is there in person. She not only tries to capture the likeness but also the personality and warmth of the sitters.
"This is a brilliant project to be part of, not only helping to introduce a new portrait but also assisting to make the University of Leicester's art collection more diverse." - Megan McMullan