Vijay Sharma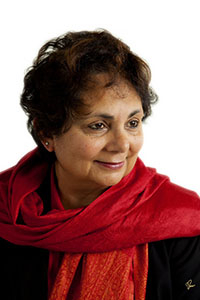 Vijay Sharma has lived in Leicester since 1976 and was the Managing Editor & Head of the BBC Asian Network, the National BBC Digital Station. Vijay led this development from a few hours a week of Asian programming on the local BBC Radio Leicester to the formation of the National BBC Asian Network.
For her contribution to broadcasting of over 30 years, she was awarded a Fellowship of the National Radio Academy and Honorary Doctorate Degrees by De Montfort University and the University of Leicester.
Vijay is a qualified Social Worker, has an MA in Social Work, and practiced Social Work in Coventry and at Nottinghamshire County Council.
She was then appointed Race Relations Advisor, reporting to the Chief Executive, at Leicestershire County Council.
Vijay has held numerous Non-Executive and Trustee roles on the following bodies: East Midlands Strategic Heath Authority, West Midlands Government Office, Leicestershire and Rutland Probation Trust, Gingerbread, Caxton Foundation, Leicester Theatre Trust- the Curve & Haymarket Theatres.
Currently Vijay serves as a Non-Executive Director on the East Midlands Ambulance NHS Trust and Chairs its Workforce Committee; Vice-Chair of University of Leicester Council; Trustee of Rainbows (Children's Hospice); Board Member of Leicestershire and Rutland Community Foundation; Steering Group Member of Women in Philanthropy; Member of Leicester Children's Hospital Charity and Chair of the Health and Safely Committee at the Curve Theatre.
Vijay is a qualified Coach and Mentor and was awarded the EMCC Diploma in Professional Coach - Mentoring .
(Image by Maz)