Discovery-enabling environment
Discovery-enabling environment
"Leicester – building the foundations for discovery."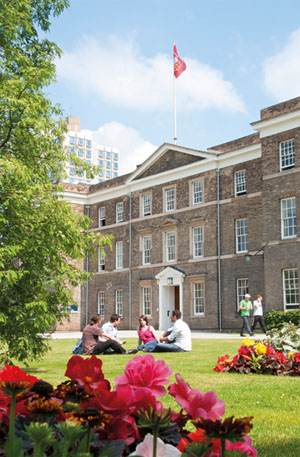 Our campus, infrastructure and processes must support our overall objectives, reflecting our ambitions as an outward-facing and enterprising university. Our priorities include:
Forming the heart of the Leicester Educational Quarter
We are developing a new estate master plan to deliver a 21st century urban campus as the centre-piece of Leicester's Educational Quarter. This involves a programme of investment in academic and student facilities, including research infrastructure and a much improved public realm, as well as a focus on spaces for social learning and collaborative interaction.
A digital future
We will design and develop our Digital Campus, creating an inclusive, personalised and interactive environment for our students, staff and partners that will also support excellence in research, enterprise and learning. There will be a focus on furthering the digital skills and capacities of students and staff. Digital techniques and technologies will drive innovations in what we do, ensuring that our university is renowned for being interactive, effective and agile. As digital technologies become all-encompassing, we will support and enable scholars to explore and conceive of new ways to undertake and communicate their research. Staff and students alike will benefit from a digitally-enabled approach to teaching, learning, student experience, engagement and well-being.
Open scholarship
Embracing open scholarship and the open academy — and to sustain partnership, collaboration and the dissemination of knowledge — we will provide tools for scholar-led publishing and open repositories for data and learning materials. We will also maintain open licensing policies for research outputs, data and websites.
A great place to live
Our Oadby Student Village and City Living accommodation provide a great place for our students to live. They are a key part in delivering our Fabulous First Year and an affordable, flexible home base for undergraduate and postgraduate students coming to Leicester from all over the globe. We will enhance our strong existing focus on residential support and well-being. Alongside a continuing programme of refreshment and revitalisation of student living spaces, we will focus our City Living accommodation onto an integrated site to provide a vibrant student community, including learning space, close to our academic campus.
Sustainable finances
With a new approach to strategic and operational planning, including a greater focus on scenario planning and future scoping, and a financial model that is fit for purpose, robust and easier for academic and professional leaders to use, we will ensure that we have the tools to track and improve our performance. This will enable us to plan to meet our long-term ambitions, take advantage of opportunities and address our immediate priorities.