Promoting health and wellbeing
Promoting health and wellbeing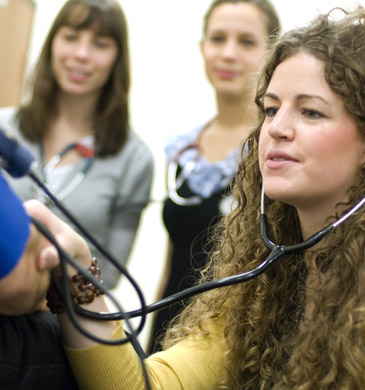 Parts of Leicester have a significantly lower life expectancy than the national average. Some of our BME communities experience much higher than average levels of certain types of disease, such as diabetes and heart disease. The city also has a higher than average infant mortality rate. Our new Centre for Medicine will help tackle some of these issues and we are already creating opportunities for local communities to get involved in research, trials and consultations about what we do in the future.
The University of Leicester is a research intensive institution with a long-established and well-respected Medical School. Research within our College of Medicine, Biological Sciences and Psychology takes advantage of Leicester's distinctive population to address culturally specific health issues. Our medical research makes a tangible impact within our local community which can then be rolled out nationally and internationally. Our new Centre for Medicine provides state-of-the-art training for the doctors of tomorrow.
The University's two sports centres are open to the local community. We are also the home venue for Leicester City FC women's under-17, under-15, under-13 and under-11 teams. For our students we run Sportivate sessions, which are introductory sessions to sports, and an initiative called Let's do Leicester, which allows students who otherwise wouldn't take part in sport to do so on a casual basis. This use of the sports facilities for non-university associated teams and for students and community members who otherwise wouldn't engage in sport means that local people are steadily increasing their fitness and wellbeing every week.
The University is also a partner (with Leicester City Council and ParkRun) in the weekly Victoria Park Run which has attracted more than 1,000 runners since it was launched in November 2015 - including a significant number of University staff and students. Funding for this regular event was made available because the University opened up its car parking facilities for attendees.