Developing children and young people
Developing children and young people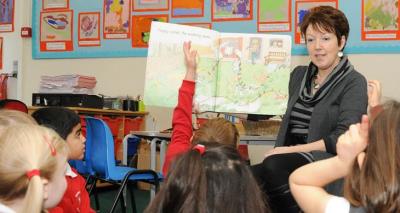 Leicester has one of the highest rates of child poverty in the country. Some 26,000 children under the age of 19 live in poverty. Through student volunteering and schemes such as STEMNET, we are already helping young people develop skills to help them progress in later life.
Our students work with Beaumont Leys School in Leicester to support students on the GCSE C/D grade borderline. In 2014/15, 100% of the pupils our students worked with achieved a C or above in their GCSE Maths grade. Students work closely with a supervisor at the school to work through the curriculum with the pupils. They receive support in terms of developing teaching materials, but are expected to lead small groups of students in maths lessons, aimed at bringing them up to a C grade.
Through 2015/2016 the University is running The Leicester Academy for the very first time. The Leicester Academy aims to set itself as the University's hub for sport related opportunities, producing a workforce who will be deployed into local schools and community clubs who have been selected with the help of Widening Participation. Students who are part of the Academy are given the opportunity to complete coaching/officiating qualifications, enabling them to then deliver in the community, local schools and at the university. There will also be various events throughout the year, such as Varsity at Welford Road Stadium, where students can gain experience in volunteering at large events.
The University's Botanic Garden provides educational activities to more than 11,000 school children and 3,000 adults every year, on top of its annual 50,000 casual visitors. The Botanic Garden is fundamentally an academic institution engaged in teaching and research. Its mission is to explore and explain the world of plants by:
Maintaining the most diverse garden in the region, in terms of both plants, including special conservation collections, and landscape features, including historically and architecturally important buildings.
Underpinning scientific research at the University.
Providing essential, material support to University teaching.
Devising and providing both passive and formal education programmes aimed at all age groups outside of the University, in particular reaching out into the wider community to demonstrate the contemporary significance of plants in a rapidly changing world.
Every year the University of Leicester welcomes thousands of children and young people onto campus for activities designed to promote higher education and its potential benefits. We proactively visit local schools and colleges in areas of disadvantage to help teachers raise aspirations of young children and prepare older pupils for applying to universities in the near future. Much of this work is led by our Widening Participation Team who work to enhance the educational aspirations and opportunities of young people from disadvantaged backgrounds. This is in recognition that someone's background can have a significant impact on the likelihood that they will successfully enter higher education. The activities we deliver, range from general aspiration and attainment events to specialised activities focused on themes such as employability, applying for law/medicine and access to cultural amenities. For further information about this work please contact Dr Hannah Ordoyno, hco3@le.ac.uk